Home » Software » Distribution Management » Auto Parts
Auto & Truck Parts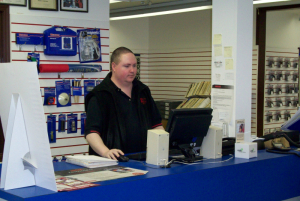 Scott Strabel
Bumper to Bumper, Edmonton
Rinax X4 has got everything I need to run my store efficiently. The Windows screens are easy to use and the speed and reliability of the system is fantastic! Because it's easy to use, it takes an inexperienced counter person and gives them the tools and the confidence of someone with years of experience. I love it!
To see more click here for an online demo, or
contact us
for a live demonstration!
Auto and truck parts distributors face increasing challenges due to the proliferation of vehicle makes, models and parts and there is more competition from big box stores and dealerships. The result is mounting pressures on margins and the amount of inventory required to satisfy customer demand. RINAX X4 for auto and truck parts meets these challenges head-on with the following partial list of features:
Integration with most major Canadian Aftermarket Warehouse Distributors

Price Files
Purchase Order Transmission
Reporting

Complete Core Management, including sales, credits, pricing and inventory control
Pricing management by product line and sub-line
Environmental handling charges automated
Pricing and sale of non-stocked parts automated
Special order handling
Returns against original invoice
Automated credit management
Customer quotations
Date Specials
Pick-tickets
Supercede, cross reference and alternate parts
Packaged quantity management
Serialized parts management
Part and product group re-names
Dead-stock and over-stock management
Multi-branch purchasing and stock transfers
Vehicle/fleet sales tracking
Booking order management
And much more...