Home » Software » Distribution Management » Oilfield Supply
OILFIELD SUPPLY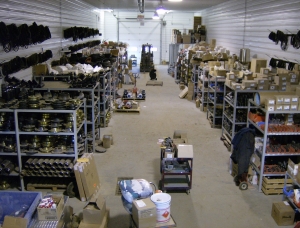 Derek Ness
Bonness Oilfield Supply
We've been using Rinax since November 2000 and since that time they have helped our company keep up with the high demands of the Oil Patch. By giving us the tools to manage our growing inventory and receivables efficiently and accurately, we've been able to move forward and grow our business with adding only minimal staff. They understand our business and their support has been exceptional. Rinax has been the best purchase our company has ever made.


Oilfield suppliers today know that technology provides one of the best opportunities to meet increasing demands on customer service, staff productivity, shrinking margins and growing sales. RINAX X4 software was developed specifically to manage these critical business processes with this partial list of features:
Sales order processing for both wholesale and retail
Retail cash management
Customer quotations
Credit checks when creating and before finalizing invoices
Credit hold by dollar amount with variance or by aging
MTR (Material Tracability Record) document control
Serialized item management
Kits
Rebuild for stock feature
Bar coding
Environmental handling charges automated
Special order handling
Quantity break discounts
Package quantity management
Price by percentage or gross margin
Pricing and sale of non-stocked parts automated
Date Specials
Returns against original invoice
Pick-tickets
Supercede, cross reference and alternate parts
Serialized item management
Item and product group re-names
Dead-stock and over-stock management
Multi-branch purchasing and stock transfers
Vehicle/fleet sales tracking
Booking order management
Backorder management
Lead time per vendor
Inventory cycle counts
Earn/turn calculated and reported
Average weekly demand calculations
Booking order management/on average weekly demand
Separate on-hand, on-order and committed stock
Zone pick-ticketing
Branch/warehouse surcharges
Automated stock transfers
Multi-branch purchasing
Centralized accounting
Branch and departmental accounting
Separated/consolidated financials (by branch)
And much more...